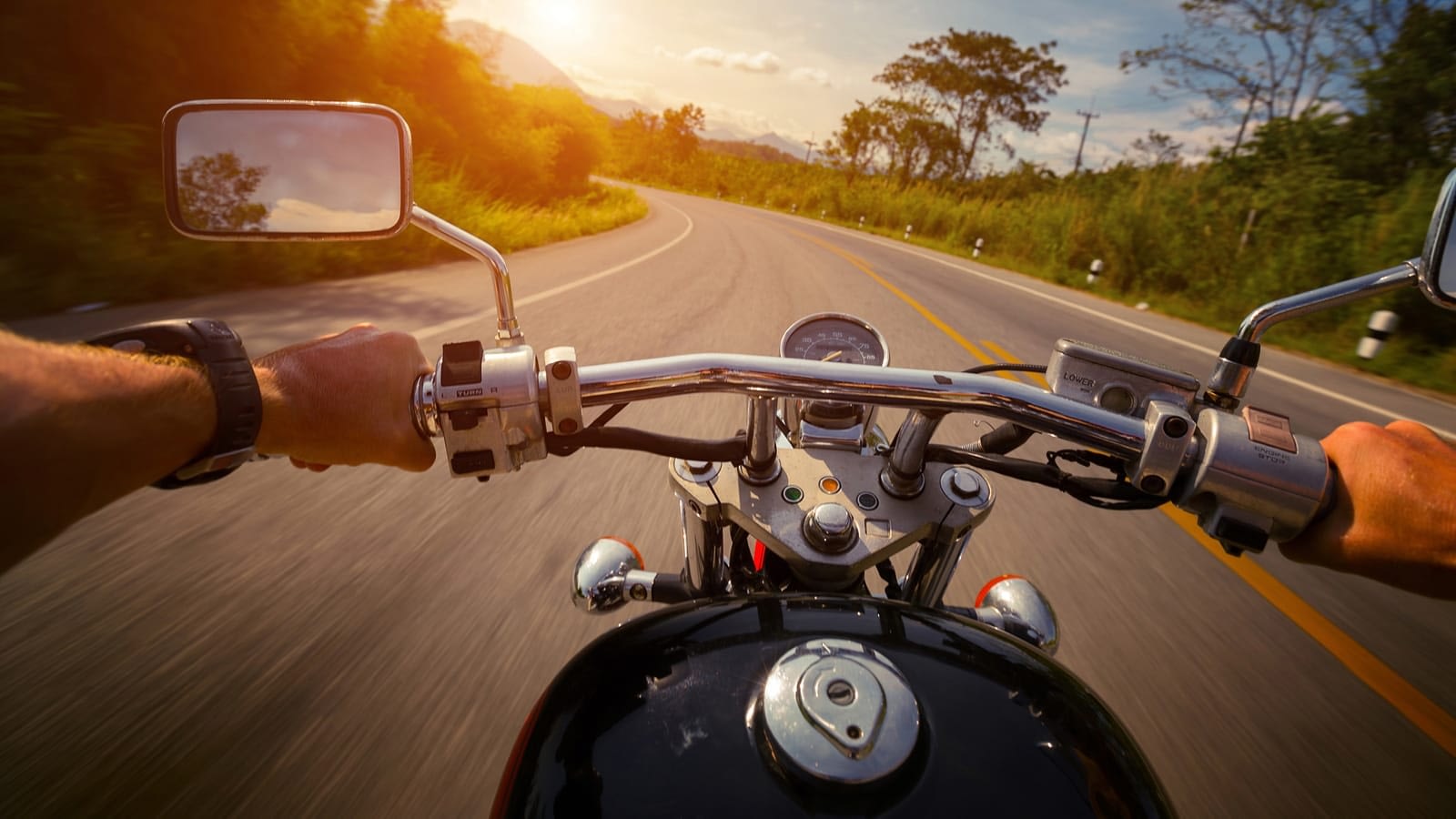 Motorcycles are cool. But dangerous. It's the adrenaline. Living life on the edge is what makes motorcycle riding what it's all about: the best time you can have on two wheels.
Motorcycles travel as fast as cars but have none of the safety features like an exterior frame, four wheels, or seatbelts. But riding a motorcycle doesn't have to be an exercise in knocking on death's door. They may be less safe than cars, but there are a few things motorcyclists can do to stay alive and well on the road:
1: Wear a Helmet
The single most important thing you need to do is to wear a helmet. They protect your head, and head injuries are the leading cause of death for motorcycle riders. Your brain just wasn't meant for speed. And get the right helmet, not a novelty that looks good but doesn't protect you. Look for a Department of Transportation-approved helmet. It shouldn't be too tight or too loose, or block your vision. Get the full-face helmet, which will protect that beautiful face of yours from a getting road rash.
If you do nothing else you read here, wear a helmet.
2: Educate Your Passengers
Having a passenger with their arms around you as you cruise the open road can be quite romantic. But make sure anyone you carry on your bike has the right gear. Like you, they should wear sturdy shoes and protective clothes. NO SHORTS PLEASE. Make sure your passenger knows what things like stopping and turning feel like, so they won't panic. If you're carrying a child, check the laws, they may need to be over a certain age to ride on the back.
3: Watch the Weather
Riding a bike in the rain is much riskier than driving a car. You only have half the traction, and without windshield wipers visibility is difficult. Check the weather, if heavy rain, snow or ice is predicted, don't go. If you absolutely must ride in the rain, don't go right when it starts, as it brings up oil and or residue, making for a slippery road. If you wait the rain will wash away the slick stuff it brought up. Then, go slowly, leave lots of room for stopping, and if the weather gets worse wait it out.
4: Take a Motorcycle Safety Course
In most states, if you're going to get a motorcycle license, you need to take a skills test. You also have to take a motorcycle safety class – like traffic school but not as dull. Check out theMotorcycle Safety Foundation or http://www.tn.gov/safety/mrep.shtml for the Nashville Safety course. The class will teach you laws that apply to motorcycles, how to respond in an emergency, and will give you a chance to demonstrate your new skills in a safe environment. The instructors will give you tips about how to avoid unsafe situations, like how to recover from a skid on a bike.
5: Get the Right Gear
We've all seen people on motorcycles in shorts and flip flops. There's a reason bikers wear leather: it's strong enough to protect their skin if you slide along the road at 60 miles per hour. But you don't have to look like a "hardcore biker dude" to ride a motorcycle. You can get vented jackets that keep you cool while keeping you safe. They're made of lightweight, breathable material, with heavy-duty armor panels in key places (along the spine, torso, shoulders and elbows) to protect you. The right shoes are also important. Nothing open-toed! Not only do they expose your feet while on a bike, they can slip off, causing a dangerous situation. Motorcycle shoes should also have sturdy ankle supports, a low heel, and be made of a durable material, like leather, for better protection.
6: Ride Within Your Skills
Riding a motorcycle is a skill you need to develop, so make sure that you always ride within your skill level. Your friends who've been riding longer may be able to take curves faster, or weave in and out of traffic, but that doesn't mean you should. Take time to build your skills – and only ride in situations where you know your skills are up to it.
7: Avoid Distraction
One of the keys to staying safe on a motorcycle is staying hyper-aware of everything going on around you. Motorcycles are tough for drivers to see – especially large cars or SUVs. You need to see and avoid them, rather than bet on them seeing you. So don't fiddle with your phone or iPod, or wear headphones. If you do, your reaction time is cut by several precious seconds, putting you at higher risk. Running into an RV at 60 miles per hour is no one's idea of a good time.
Johnston & Associates offers excellent coverage for motorcyclists with numerous discounts and opportunities to save money on your motorcycle insurance.
Request a quote or contact us today to learn more.
Filed Under: Personal Insurance
|
Tagged With: motorcycle insurance in nashville tn, motorcycle safety, motorcycle survival tips