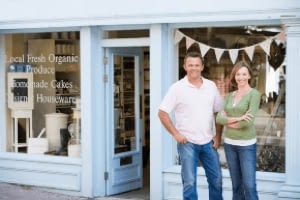 Commercial Insurance coverage is available for every conceivable risk that your Tennessee business might face. It is critical to your company's financial well-being that you have commercial insurance in place before you start your business, as you can lose everything with one act of negligence. The cost for business insurance varies widely because each insurer looks at risk differently. It helps to work with an independent agent who can help keep your rates down! Independent agents work with numerous companies and will shop your coverage out to get you the best rate available. It is advisable to discuss your individual business concerns with your agent, as well as discuss the coverage options available. A good agent will advise you on the various types of Business Owner Policies (BOP) you should consider purchasing – and help you avoid coverage you don't need.
General Liability Insurance
Tennessee Business Owners purchase General Liability Insurance to protect against legal entanglements due to bodily injuries, accidents, or acts of negligence by the employees or owners of the business itself. In addition, General Liability policies also protect you against court settlements resulting from property damage, medical payments, or defamation of character. Business General Liability coverage will pay the expenses of attorney's fees and court settlements which are owed to the injured parties.
Product Liability Insurance
Any Tennessee small businesses that distributes, manufactures, wholesales or sells a retail product can be named in a suit and be held responsible for that product's safety. When there is financial loss or bodily injury that results from a defective product, Product Liability insurance protects the business owner from paying for these injuries. The amount and type of insurance coverage you'll need depends on the products you sell or manufacture. A gift store would have significantly less risk than a custom motorcycle shop, for example.
Professional Liability Insurance
If you provide professional "white collar" services such as real estate, medical, legal or accounting services, or give financial advice, you will need Professional Liability Insurance, also known as Errors & Omissions (E&O ). This type of Liability Insurance coverage provides protection for any negligence or malpractice while you are providing services to your customers. Depending on your occupation, you may be required by the state of Tennessee to carry such a policy. For example, insurance agents in Tennessee are required to have Errors & Omissions insurance before they can sell a policy, in addition to being licensed.
Commercial Property Insurance
Commercial Property insurance covers your physical equipment – covering everything related to its loss or damage. Examples of covered losses are things like theft, wind-hail storms, civil disobedience, fire, smoke and vandalism. The term "property" has several interpretations and includes loss of income, business interruption, buildings, computers, billing invoices or cash.
Tennessee Property insurance policies come in two basic forms:
(1) Coverage that is totally comprehensive in scope, covering a much wider range of incidents and perils is known as Inland Marine or All Risk. This coverage is the best you can get, covering any type of damage including accidental breakage or mysterious disappearance. The term "All-Risk" generally is used for high value equipment that is critical for your business' operation.
(2) A typical Property Policy is usually peril-specific, or Named Peril, which covers losses only for those perils listed in the policy. This coverage is more limited, but covers you for such things as flood, fire, crime, wind/hail, and business interruption. Named-Peril policies are purchased when there is a known high risk of peril in a certain area, such as a flood. Consult your insurance agent about the different types of business property insurance that is best suited for your small business.
Home-Based Business Insurance
Contrary to what you may think, Tennessee homeowners' policies do not usually cover a typical home-based business. Depending on what type of business you are running, you may be able to add certain endorsements to your homeowners' policy to cover business risks such as theft or property damage. However, don't assume anything! Home policies are very limited in covering home-based types of businesses. You will most likely need to purchase additional coverage on a Business Owner Policy (BOP) to make sure you've got the full scope of your operations covered.
For more information about Tennessee Business Insurance, call Johnston & Associates Insurance today at 615-716-2123.
Filed Under: Business Insurance
|
Tagged With: apartment, brentwood, business, commercial, duples, franklin, homeowners, independent, insurance, landlord, liability umbrella, nashville, nolensville, rental dwelling, renters, spring hill, tennessee