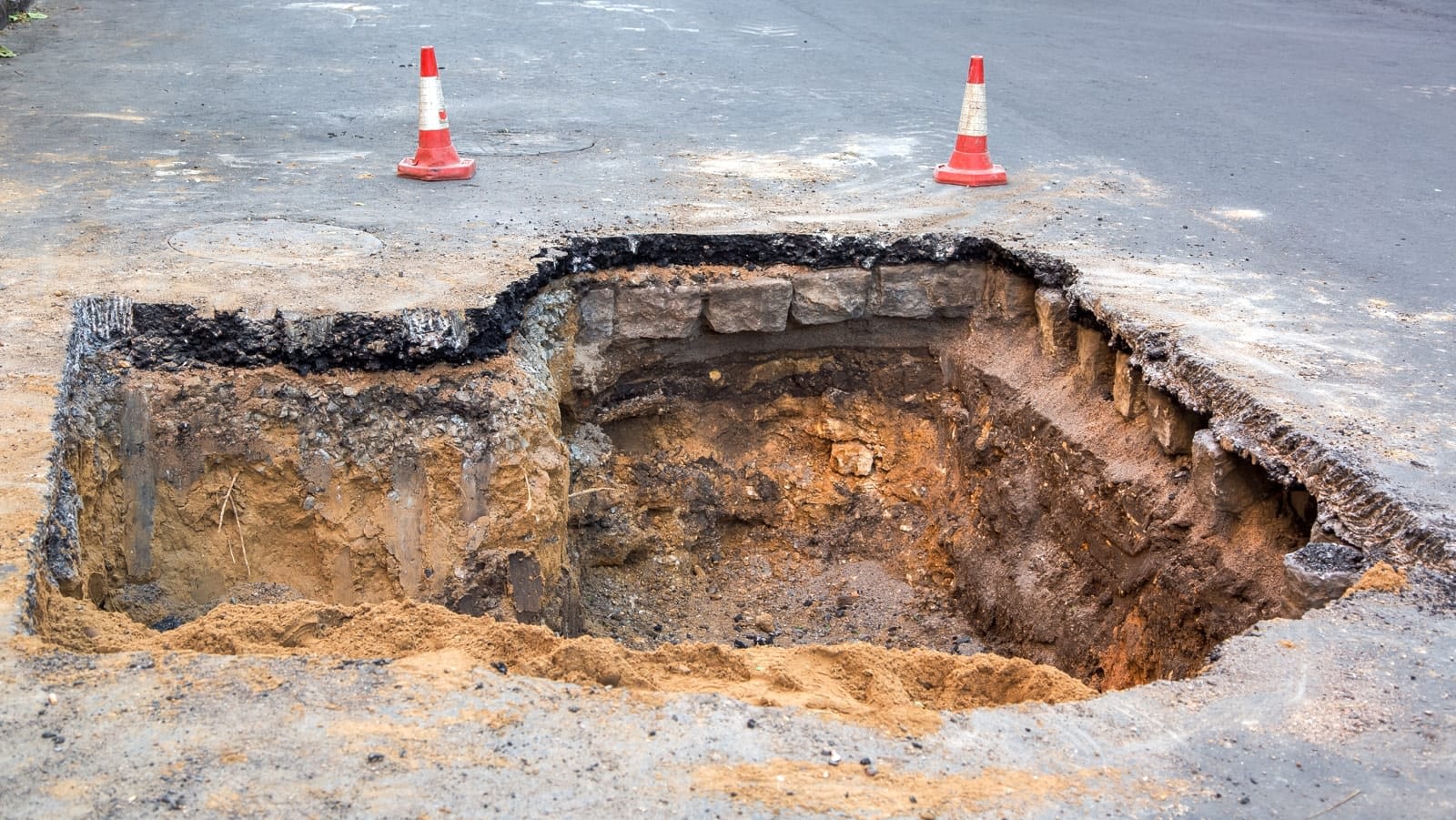 Approximately 40 miles west of Nashville, Tennessee lies the bustling city of Dickson. Though notable already for its connections to actors Anson Mount and Luke Perry, Dickson has now made national news for a phenomenon affectionately dubbed by locals as "The Dickson Hole."
The sinkhole first appeared in the early days of November 2017 following unusually heavy rain and subsequent flooding. According to the Nashville, Tennessee-based newspaper The Tennessean, the sinkhole has been the center of controversy, and several lawsuits, since then because of arguments among the private property owner, city, county, and state as to who is responsible for paying to repair it.
What is a sinkhole? The United States Geological Survey (USGS) defines one as "area of ground that has no natural external surface drainage–when it rains, the water stays inside the sinkhole and typically drains into the subsurface. Sinkholes can vary from a few feet to hundreds of acres and from less than 1 to more than 100 feet deep. Some are shaped like shallow bowls or saucers whereas others have vertical walls; some hold water and form natural ponds."
What causes a sinkhole? According to Wikipedia, "The formation of sinkholes involves natural processes of erosion or gradual removal of slightly soluble bedrock (such as limestone) by percolating water, the collapse of a cave roof, or a lowering of the water table."
While it may be easy to think of a sinkhole as something reserved for natural disaster movies, Tennessee residents should take note. The USGS states that Tennessee is one of the top seven states where sinkholes occur.
How does this affect the average business and homeowner in Tennessee? Greatly, because of the way sinkholes are classified by most insurance companies. Often, property owners get insurance, not going over the finer points of what is and is not covered. Like many people in and around Nashville learned the hard way with the Flood of 2010 that most policies don't cover flooding of this type, sinkholes are not automatically covered by most insurers. Sinkholes are typically categorized by insurance companies as "earth movement." According to the Insurance Information Institute, "Sinkhole coverage presents unique challenges when it comes to insurance coverage. When homeowners insurance policies are priced, the real estate value of the land is excluded—that is, the property is insured for what it would cost to rebuild the home's structure, without respect to the price of the land. Therefore, most property insurance policies in the U.S. exclude damage related to movement of the earth…"
The good news is that Tennessee requires insurance companies to offer business and home property clients optional sinkhole coverage, either for free or for an additional premium. Scott and his team are independent insurance agents who have faithfully served the business and home property clients of Brentwood, Franklin, Nashville, and Spring Hill for almost two decades. Contact them today and let their expertise be the strong foundation for your peace of mind.
Filed Under: Homeowners Insurance
|
Tagged With: apartment, brentwood, business, commercial, duplex, franklin, homeowners, independent, insurance, landlord, liability umbrella, nashville, nolensville, rental dwelling, renters, spring hill, tennessee